Here's what is coming to the Clarke Theatre...
---
Canadian Country Music Hall of Fame

Then & Now Concert Series

October 1st, 7pm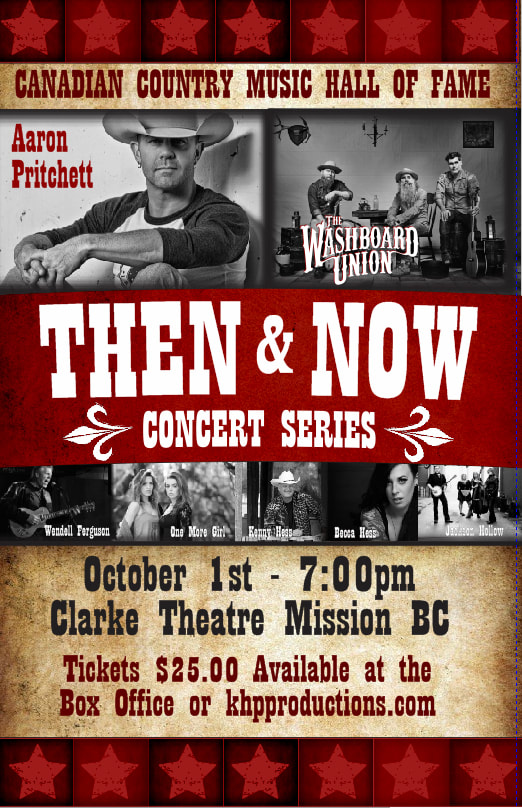 ---

​Diwali: Festival of Light

October 11, 5pm - 8pm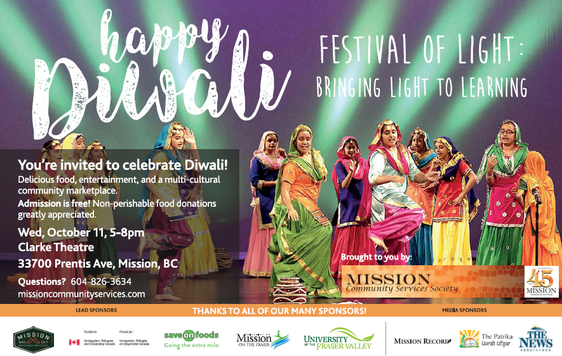 ---
Up Close and Alone Tour

Burton Cummings

Friday, October 13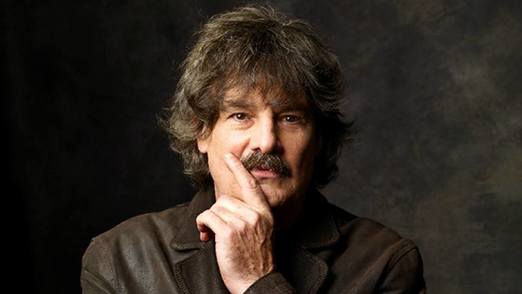 Rock.It Boy Entertainment presents Burton Cummings – UP CLOSE AND ALONE TOUR on Friday, October 13 at the Clarke Theatre, 33700 Prentis Avenue, Mission. Tickets are $79.50 (plus Facility Fee & Service Charge) available at all Ticketmaster locations. Charge by phone at 1-855-955-5000 or online at www.ticketmaster.ca.

Few artists have achieved the level of public success and critical acclaim that burton cummings has enjoyed. His musical creations continue to resonate with fans both old and new. In a dazzling career spanning more than forty years Cummings continues to uphold his impressive reputation as a performer, singer, songwriter and recording artist.

With Canada's original rock 'n' roll superstars The Guess Who, Burton scored an unprecedented string of international hit singles and albums, including "These Eyes", "Laughing", "No Time", "American Woman", "Share The Land", "Hang On To Your Life", "Albert Flasher", "Sour Suite", "Orly", "Glamour Boy", "Star Baby", "Clap For The Wolfman" and "Dancin' Fool", all written or co-written by Burton. Upon leaving The Guess Who to go solo in 1976, Cummings earned a gold record with his debut solo single, "Stand Tall". Then came more than a dozen hit singles and albums including "I'm Scared", "My Own Way To Rock", "I Will Play a Rhapsody", "Timeless Love", "Break It To Them Gently", "Fine State of Affairs", "Love Dreams", "You Saved My Soul" and "Dream Of A Child". That latter disc became the first quadruple platinum-selling album by a Canadian artist. His voice is considered one of the finest in rock music.

As a member of the Canadian Music Hall of Fame, Canadian Songwriters Hall of Fame, Canadian Walk of Fame, Canadian Music Industry Hall of Fame, Prairie Music Hall of Fame, six-time Juno Award winner, recipient of the Order of Canada, the Order of Manitoba, the Governor-General's Performance Arts Award, 22 SOCAN Awards and several BMI (Broadcast Music Industry) Awards for over 1 million airplays of his songs, Burton Cummings is one of the most celebrated rock artists in Canadian music history.

With the Guess Who he earned the first US platinum album by a Canadian artist, and on his own the first quadruple platinum Canadian-produced album. Altogether, Burton has earned some 80 platinum and gold record awards. Recently, the best-selling book The 100 Top Canadian Singles ranked "American Woman" the greatest Canadian single of all time. He also enjoys a world-wide stature shared by only a select few Canadian artists.

The consummate artist, performer and professional, burton cummings possesses an extraordinary gift for entertaining. As a concert draw, he is second to none, delighting audiences from 10 to 10,000. His most recent album, 2008's critically-acclaimed Above The Ground, was his first ever to feature all original songs by Burton. Fans and critics alike glowed with superlatives citing the album as his best work in decades. Canadian Rock Music royalty, burton cummings remains at the top of his game as an unrivaled singer, songwriter and recording artist.

For more about burton cummings, please visit: www.burtoncummings.com; www.facebook.com/burtoncummings; www.twitter.com/burtoncummings; www.instagram.com/burtoncummings.

---
WHITEHORSE
Panther In The Dollhouse Canadian Tour
​
Wednesday, October 18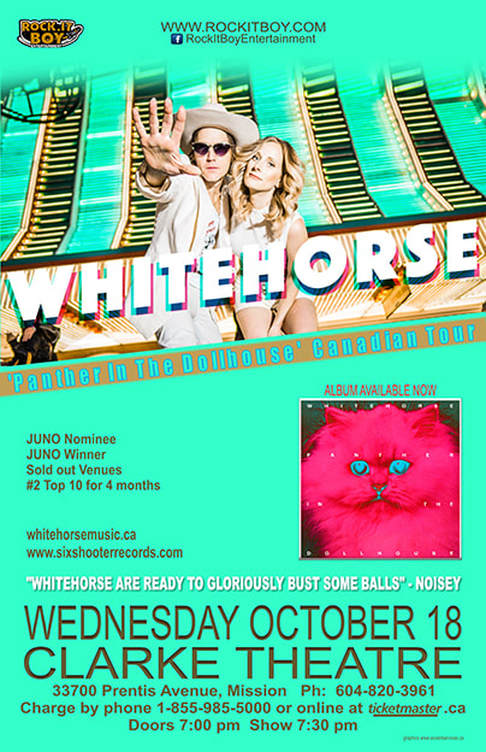 Rock.It Boy Entertainment proudly presents WHITEHORSE - PANTHER IN THE DOLLHOUSE CANADIAN TOUR Wednesday, October 18 at the Clarke Theatre, 33700 Prentis Avenue, Mission.
Tickets are $37.50 (plus Facility Fee & Service Charges) available at all Ticketmaster locations.
Charge by phone at 1-855-985-5000 or online at www.ticketmaster.ca.

Welcome to the world of WHITEHORSE - glam and sleaze; desert grit and subway rats; scum-bags and fakers; hot messes and cold shoulders - delivered with a brazen sonic breadth encompassing psychedelic surf, arid border rock, lo-fi ingenuity and icy 80's sparseness. Their unique, vibrant approach shines in their take on "I'm On Fire", "Devil's Got A Gun", "Emerald Isle", "Downtown" and "Baby What's Wrong".

New album, Panther In The Dollhouse, brings a twist to Whitehorse's studio approach with the addition of beats and bleeps from NYC hip-hop production duo Like Minds (Kanye West, Snoop Dogg). But while each new album sees the duo's sound evolve, the essence of Whitehorse's musical identity remains their dizzying guitar playing and vocal chemistry. On Panther In The Doll house, Whitehorse delves deep into body politics and explores questions of consent, self-determination and, ultimately, freedom; largely from the perspective of women. Layers of retro psychedelic pop bubble up on "Nighthawks", a song that explores the constructs of perpetrator and victim on the streets. The track is a companion piece to the slow-burner "Evangelina", from the album Leave No Bridge Unburned, which reimagined the sex worker as superhero in celebration of those who challenged Canada's prostitution laws at the Supreme Court of Canada in 2013.

Panther In The Dollhouse also sees WHITEHORSE fully embraces cinematic fiction with neo-noir drama and high-gloss showmanship. From the grindhouse ballad of "Die Alone" to the peroxide burn of "Trophy Wife", the album is packed with inventive sonic elements and neo-noir drama, full of flawed characters, foiled plans and anti-fairytales.

WHITEHORSE won the JUNO Award for Adult Alternative Album of the Year (2016) and garnered a nomination for the Blues Album of the Year JUNO Award (2017). In addition, "Downtown" charted #2 on Canadian Alternative Radio and remained Top 10 for 4 months (2015). Noisey (Vice) declares, "Whitehorse are ready to gloriously bust some balls."

For more about WHITEHORSE visit: www.whitehorsemusic.ca; www.sixshooterrecords.com.
​
---
​The Canada ONE-FIVE-OH Tour

BARENAKED LADIES

Sunday, November 12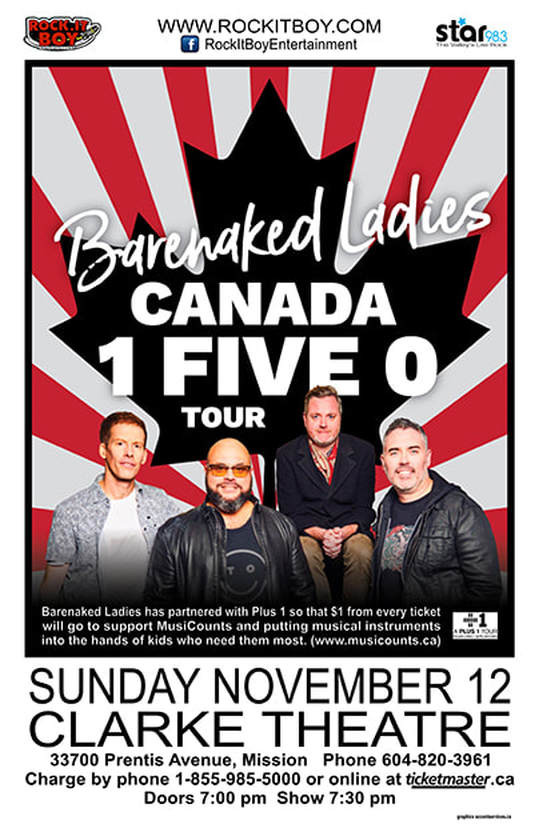 Tickets are $80.00(plus Facility Fee & Service Charges) at all Ticketmaster locations.
Charge by phone at 1-855-955-5000 or online at www.ticketmaster.ca.

TICKETS ON SALE JULY 21!

Rock.It Boy Entertainment presents BARENAKED LADIES: THE CANADA ONE-FIVE-OH TOUR on Sunday, November 12 at the Clarke Theatre, 33700 Prentis Avenue, Mission. Tickets are $80.00 (plus Facility Fee & Service Charges) available at all Ticketmaster locations. Charge by phone at 1-855-955-5000 or online at www.ticketmaster.ca.

Don't miss your chance to see BARENAKED LADIES as they head to Mission!

"Gotta see the show, 'cause then you'll know," sings Ed Robertson on BARENAKED LADIES' chart-topping hit, "One Week", a song featured on the band's most recent live album "BNL Rocks Red Rocks", recorded at the fabled Morrison, CO, Amphitheater on June 10, 2015 during the band's Last Summer On Earth tour.

That's as good a description as any about seeing these rock icons in concert, an experience filled with the kind of energy, precision, finesse and outright celebration among its fans that is a tribute to BARENAKED LADIES' remarkable longevity. The band is still together after nearly three decades, producing 14 studio albums which have collectively sold more than 14 million copies, won eight Juno Awards, earned multiple Grammy nominations, a U.S. chart-topping single ("One Week") and the theme song to one of TV's most popular shows, The Big Bang Theory.

"I don't think there's a secret," Robertson explained to People magazine last year when asked how BNL managed to not just survive, but thrive, continuing to sell out venues wherever they go. "It's work. You've got to respect each other, you got to give each other space, but you also have to support each other… This band learned early on to communicate, right from the beginning we didn't want to burn out. We wanted to keep making music."
"We appreciate what we do more than ever," explains Robertson. "We're not looking for external validation. We're enjoying working together and we're doing some of the best shows of our entire career."

"I still love writing songs," insists Robertson. "And it's such a privilege to work with these guys. They have my back, and I have theirs. It's pretty amazing to watch the crowd light up when we play a song we recorded 25 years ago, and then hear them sing along with something brand-new."

"Our fans have been on this journey with us, so we've kind of grown up together," says Ed. "It's a special relationship, within the band and between our fans. Every band says they have the best fans, but we actually do. And we know that because other bands tell us that."

"It's not easy to be hyperactive, brooding and whimsical all at once," the New York Times pop critic Jon Pareles once wrote about BNL. "But the Barenaked Ladies do just that."

BARENAKED LADIES have most recently announced a very special collaboration with the legendary "Kings of A Cappella" The Persuasions, with an album titled, "Ladies And Gentlemen: Barenaked Ladies And The Persuasions" to be released April 14, 2017. The album features 14 tracks re-imagined BNL's award-winning catalogue and the classic 'Good Times'. BNL recorded the album live off the floor with The Persuasions in the Fall of 2016 in Toronto.

BARENAKED LADIES has partnered with Plus1 so that $1 from every ticket goes to support MusiCounts (www.musicounts.ca), putting musical instruments into the hands of kids who need them most.


For more about BARENAKED LADIES visit: www.barenakedladies.com/; www.facebook.com/barenakedladies; www.twitter.com/barenakedladies; www.instagram.com/barenakedladiesmusic/; www.youtube.com/barenakedladies .
---