Here's what is coming to the Clarke Theatre...
---
Rock.It Boy Entertainment presents

COLIN JAMES BLUES TRIO
​
Thursday, March 15 - SOLD OUT
SOLD OUT!!
Rock.It Boy Entertainment presents COLIN JAMES BLUES TRIO on Thursday, March 15 at the Clarke Theatre, 33700 Prentis Avenue, Mission. Tickets are $45.00 (plus Facility Fee & Service Charges) available at all Ticketmaster locations.
​Charge by phone at 1-855-955-5000 or online at
www.ticketmaster.ca
.
From the prairies of Saskatchewan to the stages of the world, sharing his talent with some of the greatest and most influential musicians of all time, Juno Award Winning Singer-songwriter COLIN JAMES has quietly and steadily established himself as one of Canada's greatest musicians.
For his 18th album, "Blue Highways", Colin pays tribute to some of his long-time blues idols including Howlin' Wolf, Jimmy Reed, Freddie King, Jr. Wells & Buddy Guy, Peter Green, Robert Johnson and William Bell to name a few. In the spring of 2015 after wrapping up his Hearts on Fire Tour, Colin was loving playing with his band and really happy with the sound they had created on stage. What better time to make a record! Especially the record Colin had been itching to make for years – a collection of some of his favourite blues tracks. In less than a week Colin was recording in The Warehouse Studios in Vancouver and in just two days, "Blue Highways" was born. The lead single, "Going Down" was inspired by the great Freddie King.
Colin James has been named as an inductee into the 2016 Western Canadian Music Hall of Fame. In addition, Colin headlined the Western Canadian Music Awards Show at Casino Regina.
For more about COLIN JAMES visit:
www.colinjames.com
.
---
Wonder Woman Society presents

Bonnie Kilroe

for International Women's Month

March 16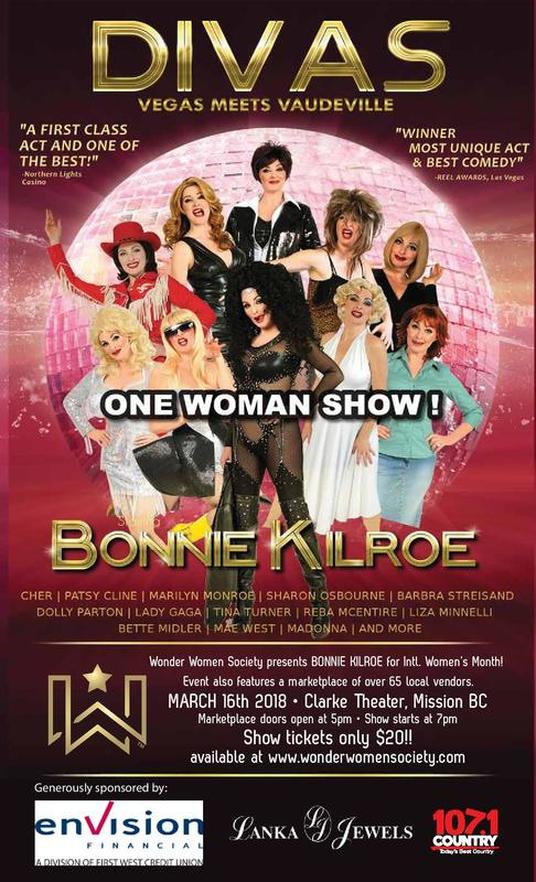 ---
Luisa Marshall as

TINA TURNER
The Queen of Rock n Roll

Friday, March 23, 2018
7:30 p.m.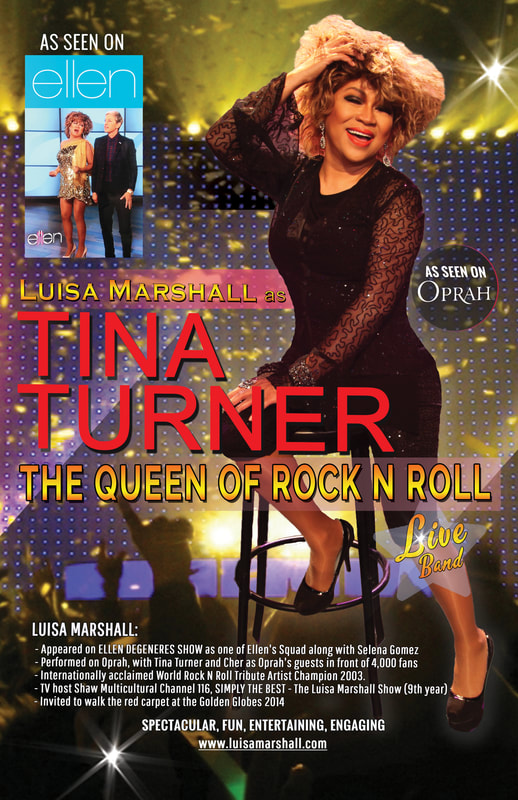 Presented by:
Simply The Best Talent
As seen on Oprah and ELLEN - World Rock N Roll Tribute Artist Champion Luisa Marshall performs her spectacular show with band and dancers. Her uncanny resemblance to Tina Turner paved the way for her world class tribute act with rave reviews and standing ovations all over the world.
Luisa has been on Oprah twice, and lately made an appearance on Ellen which received an incredible 26-second standing ovation. Luisa was also invited to walk on the Red Carpet at the 2014 Golden Globe Awards.
Remember Tina's Hits - "Proud Mary", "Simply the Best", "What's Love Got to Do With It", "Nutbush City Limits", "We Don't Need Another Hero", "Private Dancer", "Steamy Windows", "Addicted To Love", "A Fool In Love", "Better Be Good To Me", "Land of 1000 Dances", "Let's Stay Together", "River Deep Mountain High" and much more...
This show is super fun, rockin' and engaging. Luisa also surprises the audience as she pays tribute as Tina to some of her favorite Divas Shania Twain, Lady Gaga, Amy Winehouse, Etta James to name a few.
Get ready with your cellphones because you or someone you know may end up dancing on stage.
Check the links below to view Luisa on ELLEN and samples of her shows
Tickets available at Brown Paper Tickets at the following Link -
https://www.brownpapertickets.com/event/3185102
View Luisa's Tina shows
Click to see Luisa's experience on the ELLEN DEGENERES SHOW
---
RockitBoy Entertainment presents

CHILLIWACK - A Canadian Legend
with Special Guest - PRISM

Thursday, March 29, 7:30pm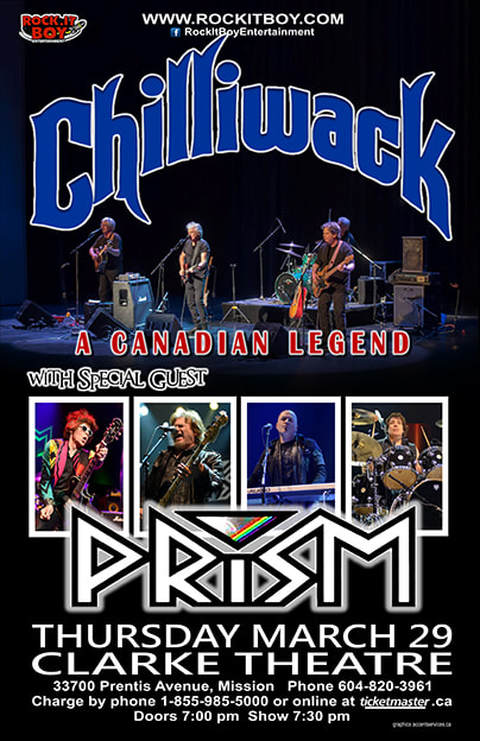 TICKETS ON SALE FEBRUARY 9TH!
Rock.It Boy Entertainment presents CHILLIWACK with Special Guest PRISM on Thursday, March 29 at the Clarke Theatre, 33700 Prentis Avenue, Mission. Tickets are $49.50 (Plus Facility Fee & Service Charge) available at all Ticketmaster locations. Charge by phone at 1-855-955-5000 or online at www.ticketmaster.ca.
Vancouver stalwart CHILLIWACK has its roots as the house band of the Torch Cabaret back in '66. Evolving shifts in style and personnel resulted in the emergence of the band we know and love. Through it all, the driving force remains Bill Henderson. From the release of their first single "Looking at a Baby" which quickly rose to number three in Canada to the twenty minute major opus "What Love: Suite" - a huge cult classic – onward to "Raino", "Lonesome Mary", "Crazy Talk", "Fly at Night", "Baby Blue", "California Girl", "Communication Breakdown", "My Girl (Gone Gone Gone)", and "Whatcha Gonna Do" this iconic Canadian label has produced 31 hit singles, 16 of them Top 40. Playing the airwaves now is Chilliwack's newly recorded live CD, "There and Back" and stay tuned for the rocking commentary on life patenting issues "Patent On The Wind".
As The Collectors they composed and performed music for George Ryga's play Grass and Wild Strawberries, for the NFB's Don't Let Angels Fall, and for a multi-media presentation at the Canadian pavilion at Expo 70 in Osaka, Japan. Henderson, along with previous member Brian MacLeod took home a Juno Award for Best Producer (1982). Rolling Stone Magazine wrote, "At their best, Chilliwack was the finest Canadian rock band, out-rocking BTO and out-writing Burton Cummings."
For more information about CHILLIWACK visit:
www.facebook.com/pages/Chilliwack-Band-Official-Page/126163464064478
On Sunday, March 6, 2011 the crew of STS-133 Discovery were awakened by the soaring lyrics of "Spaceship Superstar" to begin the last day of that shuttle's final mission. Such is the legacy of iconic rock group PRISM. An eclectic collection of amazing talent and musical styles, PRISM is the Canadian super-group. Rooted in and influenced by blues, rock and jazz, this spectacular band has a never-ending string of chart-topping hits including the unmistakable anthems "Spaceship Superstar", "Take Me to The Kaptin" and "It's Over" along with "Take Me Away", "Flying", "You're Like The Wind", "Armageddon", "Virginia", "Night to Remember", "Young and Restless" and "Don't Let Him Know".
With 13 albums and thousands of concerts under their belt these journeymen of rock have proven their mettle earning millions of fans along the way. They have also amassed quite the mountain of industry recognition including the Juno for Group of the Year (1981), SOCAN Song of the Year (1980) for "Night to Remember", a Juno nomination for Song of the Year (1981) for "Young and Restless" as well as well as the Juno for Producer of the year (1981) for "Armageddon".
Founding member Al Harlow's showmanship drives PRISM forward with award-winning alumni Gary Grace, Tad Goddard and Marc Gladstone's brilliant performances of the trademark PRISM sound. PRISM is a must-see live attraction, rocking out the hits more energetically than ever!
For more information about PRISM visit
www.prism.ca
.
---
No Filter

MICHAEL KAESHAMMER
singer/songwriter/pianist/producer

Friday, April 20, 7:30pm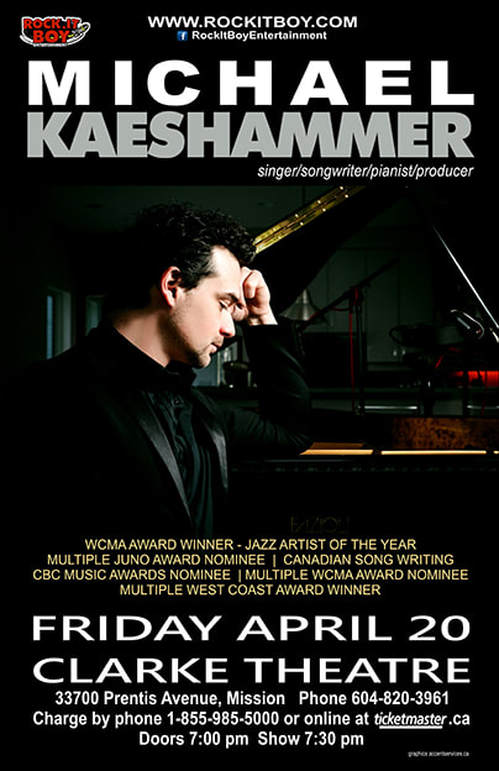 TICKETS ON SALE FEB 9TH!
Rock.It Boy Entertainment presents MICHAEL KAESHAMMER on Friday, April 20 at the Clarke Theatre, 33700 Prentis Avenue, Mission. Tickets are $37.50 (Plus Facility Fee & Service Charge) available at all Ticketmaster locations. Charge by phone at 1-855-955-5000 or online at
www.ticketmaster.ca
.
The prolific Vancouver Island-based MICHAEL KAESHAMMER has earned a loyal international following as a triple threat. He's a piano virtuoso with a technical mastery of many different styles, an eloquent singer/songwriter as well as a charming and engaging performer.
No Filter, a mix of well-crafted and melodic original songs with a couple of evocative piano instrumentals, is the eleventh album from MICHAEL KAESHAMMER. This is the sound of an artist following his muse completely unhindered by thoughts of commercial imperatives or genre constraints. On this album Kaeshammer has completely come to terms with his eclectic taste.
On No Filter, Michael takes the listener on a highly entertaining journey through refreshingly diverse musical terrain. It begins with "Letter From the Road", a buoyant and upbeat romp with exuberant horns and Michael in top boogie-woogie form. "Nothing Seems To Reach You" has rich dynamics via the combination of horns, organ and backing vocals, showcasing Michael's smooth, soulful voice. "Everybody Catches Love Sometime", a co-write with James Bryan (Philosopher Kings), is a tender treat featuring sweet lyrics boosted by Randy Bachman's typically fluent guitar work. Another highlight of the album is "Late Night Train" with Michael's lyrical piano complementing the honeyed voice of Denzal Sinclaire. The album also features a couple of instrumentals, the jaunty "Westcoast Spirit" and the mellow album closer, "Sunset".
Kaeshammer wrote these new songs at home, arranged and recorded them in demo form, then had them fleshed out in the studio by his A-list touring band that comprises bassist Devon Henderson, drummer Roger Travassos, trumpeter William Sperandei, tenor saxophonist Chris Gale, and trombonist William Carn. The personal and musical empathy of this group is certainly audible on No Filter.
Notable special guests on No Filter include horn arrangers William Sperandei ("Talk To Me Baby") and Juno-winning jazz luminary Phil Dwyer ("Letter From The Road", "Nothing Seems To Reach You"), vocalists Denzal Sinclaire ("Late Night Train") and Joel Parisien ("Sweet Grace") and guitarists Paul Pigat ("Letter From The Road") and Randy Bachman ("Everybody Catches Love Sometime"). Helping Michael fine-tune his lyrics is gifted Nashville songwriter John Goodwin (Brad Paisley, Jeff Bridges, Judy Collins).
MICHAEL KAESHAMMER is now eager to add some of the material from No Filter to his live set list. Touring is a major component of his career. His well-honed skills as a performer have placed him in real demand; in Canada, headlining the prestigious Massey Hall and Koerner Hall in Toronto and the National Arts Centre in Ottawa; regular performances in Europe and five tours in China including playing at Canada House during the Beijing Olympics.
Last year's album The Pianist attracted enthusiastic reviews and was recently nominated for a Western Canadian Music Award. Kaeshammer has won previous WCMAs for Jazz Artist of The Year (2017), Musician of the Year and Entertainer of the Year, while seven Juno Award nominations have netted him two wins. With a recording career now spanning two full decades, MICHAEL KAESHAMMER has emerged as a truly original artist at the very top of his game.
For more about MICHAEL KAESHAMMER please visit
www.kaeshammer.com
.