Here is what is coming to the
​
Clarke Theatre in Mission!

​
​

Le Vent du Nord

March 20, 2023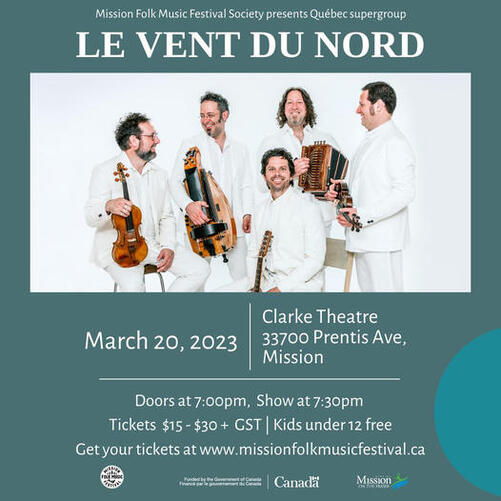 Thanks to the generous support of Canadian Heritage & City of Mission , the Mission Folk Music Festival Society is thrilled to present the award winning and highly acclaimed band Le Vent du Nord - a leading force in Quebec's progressive francophone folk movement. The group's vast repertoire draws from both traditional sources and original compositions, while enhancing it's hard-driving soulful music (rooted in the Celtic diaspora)
with a broad range of global influences.
Featuring button accordion, guitar and fiddle, the band's sound is defined by the hurdy-gurdy, which adds an earthy, rough-hewn flavor to even the most buoyant dance tunes." — Boston Herald
Since its inception in August 2002, Le Vent du Nord has enjoyed meteoric success, performing well over 1,800 concerts over 4 continents and racking up several prestigious awards, including a Grand Prix du Disque Charles Cros, two Junos (Canada's Grammys), a Félix at ADISQ, a Canadian Folk Music Award,
and "Artist of the Year" at the North American Folk Alliance Annual Gala.
Date: March 20, 2023
Time: Doors @ 7.00pm, Show @ 7.30pm
Tickets: Adult (19-64) $30 plus GST,
Seniors (65 plus) / Post Sec Student $25,
Youth (13-18) $15,
Children (0-12) Free
🎫
Tickets at: https://bit.ly/3JUzS7w
---

​LEGENDS SHOW

Tributes to Roy Orbison, Connie Francis, Motown, & Elvis Presley

March 25, 2023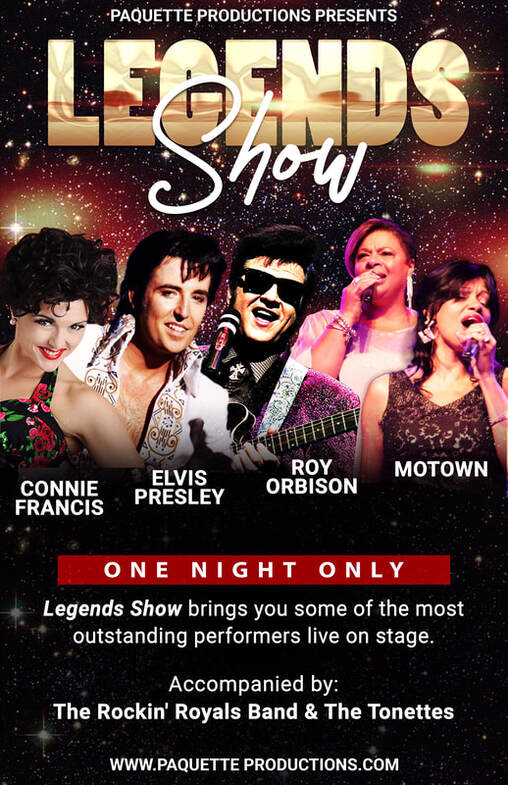 "Legends Show" brings you some of North America's most exciting performers live on stage.
Accompanied by the "Rockin' Royals Band", this show will feature the most incredible Tributes to Roy Orbison, Connie Francis, Elvis Presley, and Motown.
Performing as Roy Orbison, Jesse Aron, who hails from the State of Wisconsin, is recognized as one of USA's top Roy Orbison Tribute performers. With his effortless voice and uncanny resemblance to Roy, Jesse will take you back in time with such hits as 'Crying', 'Pretty Woman', 'Only The Lonely', 'Running Scared',
and many more of your favourites.
Canada's Tribute Queen, Amberley Beatty, returns to the stage with her truly remarkable Tribute to American Pop Singing Icon, Connie Francis. Idolized by millions of fans around the world, Francis is best known for her hits such as 'Where the Boys Are', 'Who's Sorry Now', 'Your Cheatin' Heart', 'Stupid Cupid', Lipstick on Your Collar'.
The stars of "Motown Soul", Cathy and Marlene known as The Tonettes, have been blessed with power, sensitivity, and vocal energy. This sensational trio will be performing a variety of songs from the music of Diana Ross and The Supremes, Aretha Franklin and many others. A performance not to be missed.
Pete Paquette is a World-class Elvis Tribute Artist and highly regarded as one of the top Elvis performers in the business today. Known for captivating his audiences through his incredible voice, high energy, charisma, and playful spontaneity with his audiences, this multi-award winning performer will leave you wanting more.
Promo Video:
https://www.youtube.com/watch?v=granK9A4fxg

Link to purchase tickets:
https://tprowest.ticketpro.ca/en/pages/CT_Legends?aff=clarketheatre
or
​call
Toll Free - 1-888 655-9090.
---

TAKE IT TO THE LIMIT - A TRIBUTE TO THE EAGLES

THURSDAY, APRIL 6, 2023 | 7:30PM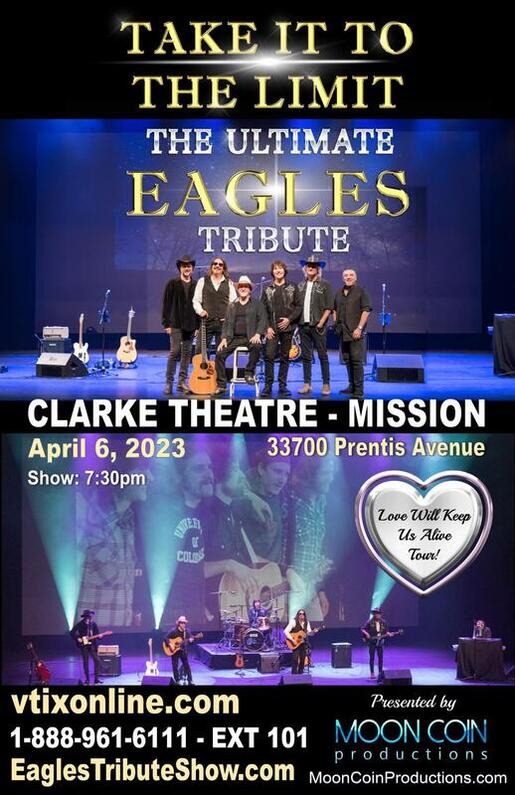 Moon Coin Productions (Producers of ABRA Cadabra and The Rocket Man) Presents "
Take It To The Limit
" The Ultimate Eagle's Tribute coming to the Clarke Theatre in Mission for the first time on April 6th, 2023 with their "Love Will Keep Us Alive" Tour! This show features some of Canada's finest musicians and vocalists, performing all of your Favourite Eagle's Hits such as Hotel California, Heartache Tonight, Peaceful Easy Feeling, Take It To The Limit, Desperado, Life In The Fast Lane, Take It Easy, Love Will Keep Us Alive, New Kid In Town, Tequila Sunrise, I Can't Tell You Why Lyin' Eyes and many more!
See more info at:
http://mooncoinproductions.com/entertainment/take-it-to-the-limit
Show Starts: 7:30 pm
Lobby Open: 6:30 pm - theatre Doors: 7:00 pm
For Wheel Chair Seating, please call: 1 888-961-6111, Ext, 101
---
Rocky Mountain High

Celebrating the Music of John Denver

​Thursday, May 4th, 2023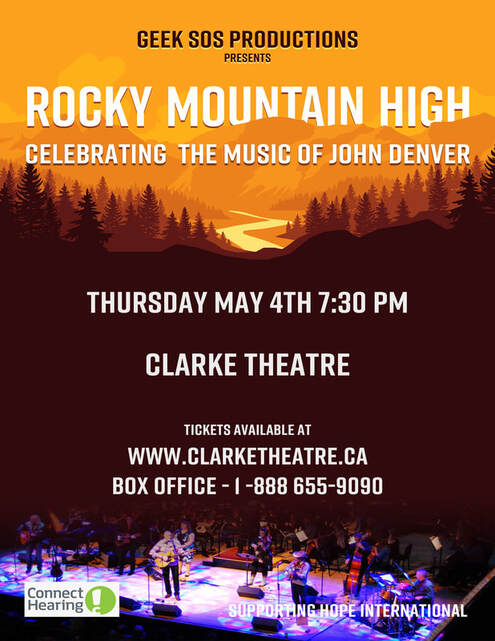 PRESALE ON NOW - Use code RMHPRE for a 10% DISCOUNTPURCHASE TICKETS HERE - https://bit.ly/JohnDenverPreSale
​
It was twenty five years ago John Denver was tragically taken from this world,
but his music and legacy live on!
Rocky Mountain High celebrates John's music as it was first arranged by his longtime
friend, conductor and arranger, Lee Holdridge.
Over the past four years, Canadian recording artist Rick Worrall, has worked very closely
with Mr. Holdridge to painstakingly rebuild John's library of songs to allow this material
to be performed as it was at the height of his career. Together with his brother Steve
who has toured with the likes of Tom Cochrane, Amy Sky, and Kim Stockwood to name a
few, they head up an Allstar lineup of some of Canada's best musicians,
who stay true to John's musicianship and style.
Hear what the critics say…
"The Way a tribute should be done!" ~ Kelowna Daily Courier
"Simply magical! John would be so proud!" ~ CJNU Radio Winnipeg
"Awesome!! A great celebration to a music icon, Bravo!" ~ Calgary Herald
A great show for all ages, Join the fun and sing and clap along too many of your
favourites, Take Me Home Country Roads, Sunshine on My Shoulders, Calypso and many
more. Thanks to movies and commercials, not to mentioned many of today's artists
covering John's songs…everyone will want to participate!
---

BC Ukrainian Cultural Festival

May 6, 2023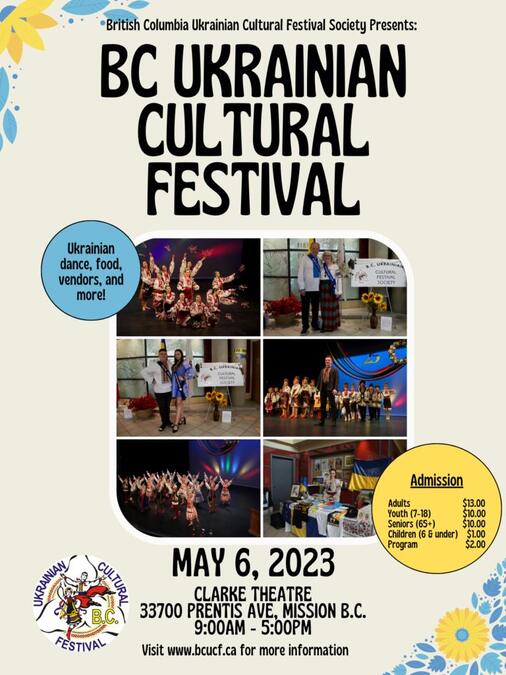 ---

​BUDDY'S HOLLY JOLLY CHRISTMAS 2023
​
December 4th, 2023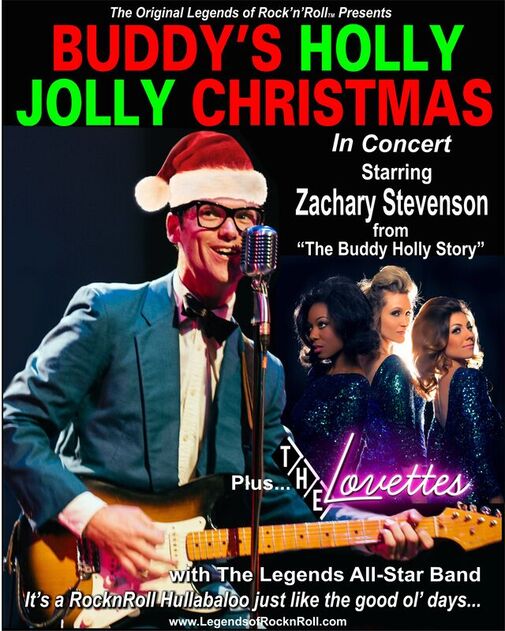 TICKETS ON SALE SOON!
​
Zachary Stevenson is the leading man from the hit musical "The Buddy Holly Story"… he is the main attraction and host for this special Christmas concert… Buddy's Holly Jolly Christmas. Stevenson will be joined by Chicago-based trio The Lovettes with their show-stopping salute to the female icons and girl groups of the 40s, 50s, and 60s. For over a decade, The Lovettes have been putting their own twist on the ladies who shaped Rock and Roll music… performing all of the US, Canada and Europe. They are endorsed by founding members of The Shirelles and Chiffons and have made several television appearances such as The David Letterman Show and PBS' Next Doo Wop Generation! Hear all the big hits plus a sprinkle of your favorite seasonal tunes performed by the cast with backing provided by the Legends All-Star Band.
More info at
legendsofrock-n-roll.com