Here's what is coming to the Clarke Theatre...
---
Disney & Cameron Mackintosh's
Mary Poppins Jr

April 11 - 12, 7 pm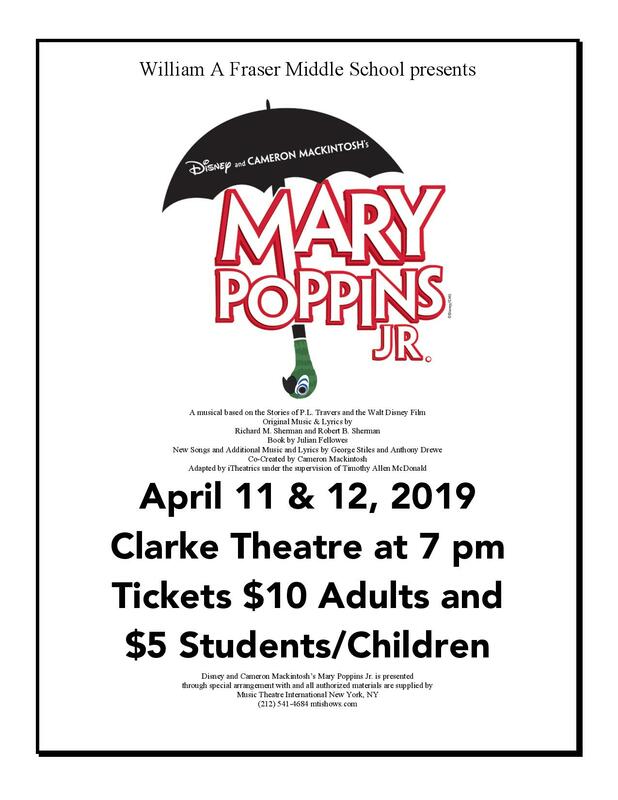 ---

​Relive the Music
50's & 60's Rock N' Roll

April 13, 2019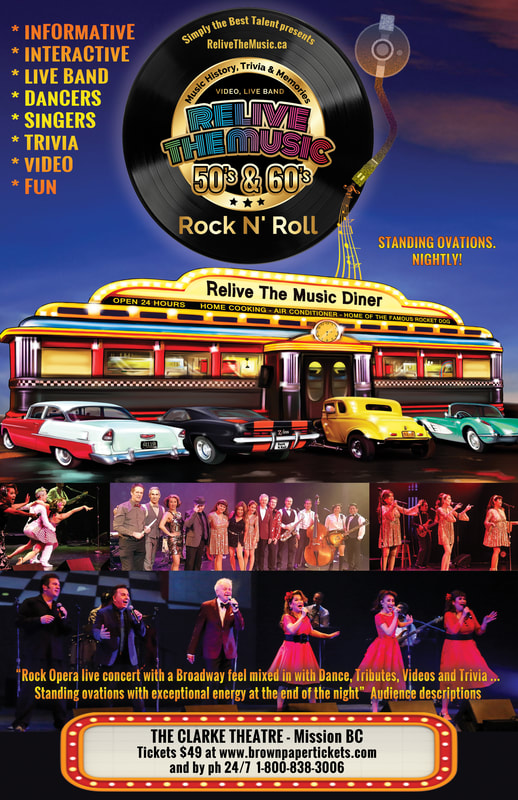 A brand new one of a kind show that takes the audience through chronological Music History, Trivia & Memories of the 50's & 60's. You will likely learn many things you never knew about these artists. You will see an energetic live band, amazing front singers and dancers transforming and re-living thru two decades of music, costumes, trends and dancing with video imagery in the background.
The audience will see silhouettes of a band onstage, video will roll in the background with singers narrating trivia about the upcoming artists prior to each song without mentioning the names. There will be a pause. The audience is encouraged to shout out their guess of what song is coming up. The song starts, the crowd cheers with "oohs" and "ahhs" as some got it right and some got it wrong and others go "Wow, I didn't know that". A very interactive show. Be ready to go onstage to join the dancers at times.
We sorted through 20 years of over a thousand songs into one – 100 minute show. The main criteria was to trim it to hit songs that are still relevant and memorable to this day. We made our pick of songs that we feel will never get old.
Hit songs by Patti Page, Dean Martin, Johnny Cash, Fats Domino, Frank Sinatra, Little Richard, The Platters, Bill Haley and the Comets, Elvis, Paul Anka, Patsy Cline, Jerry Lee Lewis, Ritchie Valens, Buddy Holly, Ricky Nelson, Chuck Berry, Chubby Checker, Dion, The Four Seasons, The Beatles, Roy Orbison, The Temptations, The Supremes, The Rolling Stones, Sonny and Cher, Neil Diamond, The Beach Boys, James Brown and more….
The cast of Relive the Music features World Champion Luisa Marshall as seen on Oprah and ELLEN ( but performing as herself not Tina Turner) and 4 to 5 more carefully chosen male and female frontline singers that perform throughout the show. Although, the show isn't designed to be a tribute show as such, there may be special Tribute guests appearing at times and the cast will be making costume changes during the show to convey the look and feel of artists in each era. The Luisa Marshall Show band will be performing throughout. It's all about the great music, dance and trivia of that era.
The grandparents and great grandparents of today that grew up in this era should bring along their children, grandchildren and great grandchildren to see how cool they really were back then, how great the music and dance moves were and not to forget the fantastic cars back then. You will have to explain to these younguns a few things like what a 45 record is, A side, B side, and that there was no such thing as a cell phone. Tell them why you hung around a place called "The Diner". Did we mention the fantastic cars of that time? Yes back to cars. What car do you wish you still have today?
We encourage the audience to come dressed in the 50's or 60's outfit they most loved.
If there are any local dance groups that can dance 50's style let us know we might get them onstage.
Hope to see you cheering for your favourite years of music.
Hope to see you cheering for your favorite years of music.
See more
www.ReliveTheMusic.ca
Regular price: $49 at
https://www.brownpapertickets.com/event/4053800
or phone 24/7 to 1-800-838-3006. Your name will be at will call at the theatre.
---
The Hilarious Celebration of
Women & The Change!

Menopause The Musical

Thursday, April 18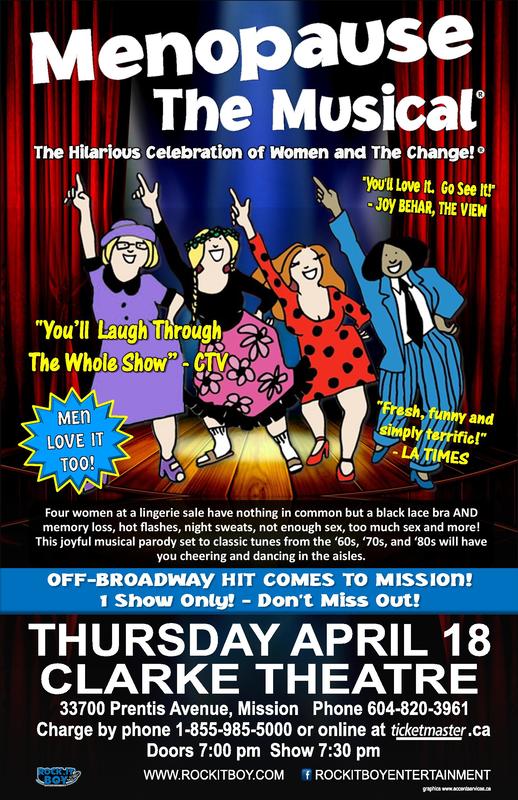 The Off-Broadway Sensation featuring Original All-Star Canadian Cast!
Rock.It Boy Entertainment presents
Menopause The Musical®
on Thursday, April 18 at the Clarke Theatre, 33700 Prentis Avenue, Mission. Tickets are $65 and $55.00 (Plus Facility Fee & Service Charges) available at all Ticketmaster locations. Charge by phone at 1-855-985-5000 or online at
www.ticketmaster.ca.
Menopause The Musical®
, now in its seventeenth year of production, is recognized as the longest-running scripted production in Las Vegas. This original Off-Broadway musical comedy is set in a department store where four women meet by chance while shopping for a black lace bra. After noticing unmistakable similarities with one another, the all-female, all-star Canadian cast joke about their woeful hot flashes, mood swings, wrinkles, weight gain, memory loss, too much sex, not enough sex and more. These women form a sisterhood and a unique bond with the audience as they rejoice in celebrating that Menopause is not "
The Silent Passage
" anymore!
The laugh out loud, 90-minute production, gets audiences out of their seats and singing along to brilliant parodies from 25 classic hit songs from the '60s, '70s and '80s. The hilarious musical has been seen by millions and entertained audiences across the world. The show plays to consistently sold-out crowds from coast to coast, receiving standing ovations every night! Come see what millions of women worldwide have been laughing, cheering and raving about!
For more about
Menopause The Musical®
visit:
www.menopausethemusical.com
.
---
2019 B.C. Ukrainian Cultural Festival

Saturday, May 4 2019 from 08:45-18:00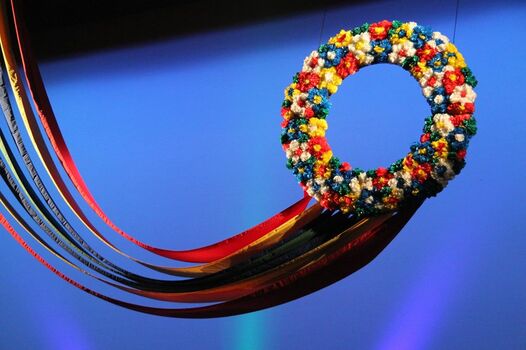 Join us for our 24th annual festival!
Culture to be enjoyed by the whole family!
Authentic Ukrainian Dance and food.
Roaming Ukrainian musicians and vendors.
Don't leave before the Hopak dances!
---
Fiddler on the Roof & The Jungle Book

Friday, May 17 2019 from 18:00-20:00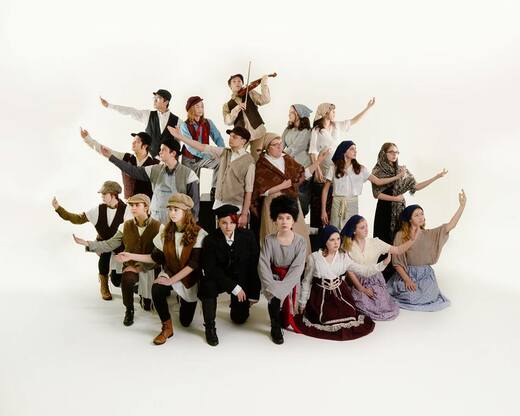 Creative Edge School of Arts is hosting their fifth annual Musical Theatre event for all ages!
This 2-hour showcase includes "Fiddler on the Roof JR" and "The Jungle Book KIDs" and features
50 Creative Edge Theatre and Dance students (ages 5-16)

"Fiddler on the Roof JR". follows Tevye the milkman as he tries to protect his daughters and his way of life from a changing world. Set on the eve of the Russian Revolution, this heartwarming play tackles the universal themes of family and tradition in ways that reach across barriers of race, class, nationality and religion.

"The Jungle Book KIDS" is adapted from Disney's beloved animated film and the works of Rudyard Kipling. Watch the "man cub" Mowgli, as he bounds through the jungle and learns what it means to be human.

Playing only one public performance on Friday, May 17th at the Clarke Foundation Theatre in Mission, BC.
Doors open at 5:30 and the show starts at 6:00.

A portion of the proceeds from the performance will benefit the Abbotsford Hospice Society.

Tickets are $18 for adults and $13 for children and can be purchased from
Creative Edge School of Arts (300-3033 Immel street) or at the door.
​Group tickets of 10 or more receive half price admission.
Call 604-855-3343 for tickets or info.
---
The original EAGLES tribute

HOTEL CALIFORNIA

Saturday, November 16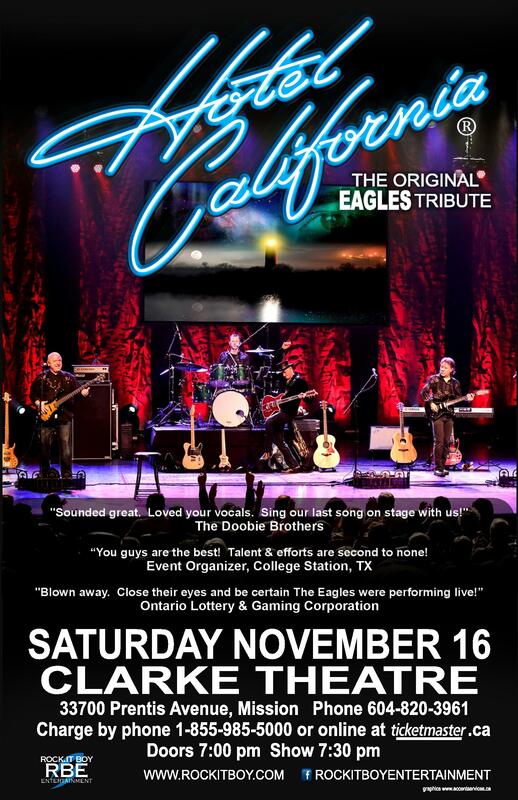 "Sounded great; loved your vocals"! – The Doobie Brothers
Rock.It Boy Entertainment presents HOTEL CALIFORNIA on Saturday, November 16 at the Clarke Theatre, 33700 Prentis Avenue, Mission. Tickets are $42.50 (Plus Facility Fee & Service Charges) available at all Ticketmaster locations. Charge by phone at 1-855-985-5000 or online at
www.ticketmaster.ca
.
When The Eagles stopped to catch their breath a few decades ago, HOTEL CALIFORNIA began a pioneering journey through their history-making music. From the quintessential Eagles anthem "Hotel California" thru "Take It Easy", "Lyin' Eyes", "Take It to the Limit", "Peaceful Easy Feeling", "One of These Nights", "Dirty Laundry", "Already Gone", "The Long Run", "Life In the Fast Lane" and "Desperado", they have been recreating the legendary sound of The Eagles and thrilling audiences from Japan to Dubai and Toronto to Texas. The band set the bar in 1986, and they've remained the industry leading substitute for The Eagles ever since, sharing bills with some of rock's legends and going places no tribute band has gone before.
What makes HOTEL CALIFORNIA so special? Incredible lead vocal similarity, intensely accurate instrumental work, soaring harmonies, and top flight live performances, for a start. These are the band's hallmarks; the foundation on which their reputation has been built. Their show has evolved into a masterful celebration of The Eagles' music. One of the most game-changing song catalogs in the history of rock n' roll is performed to perfection. If you love The Eagles, then welcome to Hotel California – you've just found the next-best thing.
With a stage show that has evolved into one of the most impressive and popular productions on the North American circuit, HOTEL CALIFORNIA brings their dedication, unique musical gifts, and an obsessive commitment to doing this legendary music true justice. Notice what people are saying about their efforts. "I had the opportunity to see Hotel California for the first time Jan 24, 2011 and I was blown away. One could close their eyes and be certain The Eagles were performing live!" - Kevin Bunting, Associate Manager, Entertainment & Production, Community & Public Relations, Ontario Lottery & Gaming Corporation, Toronto, Canada. "You guys sounded great. Loved your vocals. We'd like to invite you to sing our last song on stage with us - Listen To The Music." - The Doobie Brothers, Blue Ash Sports Centre, Blue Ash, Ohio. "You guys are the best! Talent and efforts are second to none"! - Sheila Walker, Event Organizer, College Station, TX.
For more about HOTEL CALIFORNIA visit:
www.hotelcalifornia.ca
.