Here's what is coming to the Clarke Theatre...
---
ABBA Tribute

​'ABRA Cadabra'

September 13, 7:30pm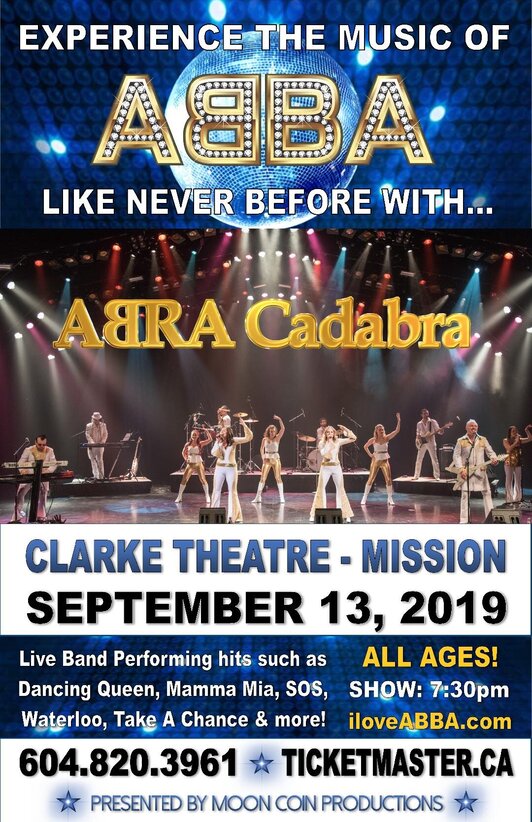 ​Experience the music of ABBA like never before with world reknowned
ABBA Tribute 'ABRA Cadabra' coming to The Clarke Theatre in Mission on Sept 13, 2019!
Featuring a live band & powerful vocals, this all-ages stage show will have you dancing & singing along to all of your favourite ABBA songs including Mamma Mia, Dancing Queen, Take A Chance, SOS, Waterloo & many more! Past performances include shows for the Malaysian Royal Family, the Prime Minister of Malaysia, Universal Studios in Florida (opening for Kool & The Gang), The Queen Elizabeth Theatre (opening for Boney M), the Esplanade Theatre in Singapore, The Harmony Arts Festival, The Auditorio Luiz Elisondo in Monterrey, Mexico, The PNE, The Commodore Ballroom, The Hard Rock Casino Show Theatre, The River Rock Show Theatre, The Bell Centre For Performing Arts, The Massey Theatre, The Act Theatre and many more!
See more info at
www.iloveabba.com
NOTICE: Please beware of 3rd party ticket re-sellers when using google to find tickets for this show.
Tickets exclusively available at
https://www1.ticketmaster.ca/abra-cadabra-a-tribute-to-abba/event/110056D9D87F67CF

​
---

THE LONELY

CELEBRATING THE MUSIC OF
​
ROY ORBISON

Thursday, September 26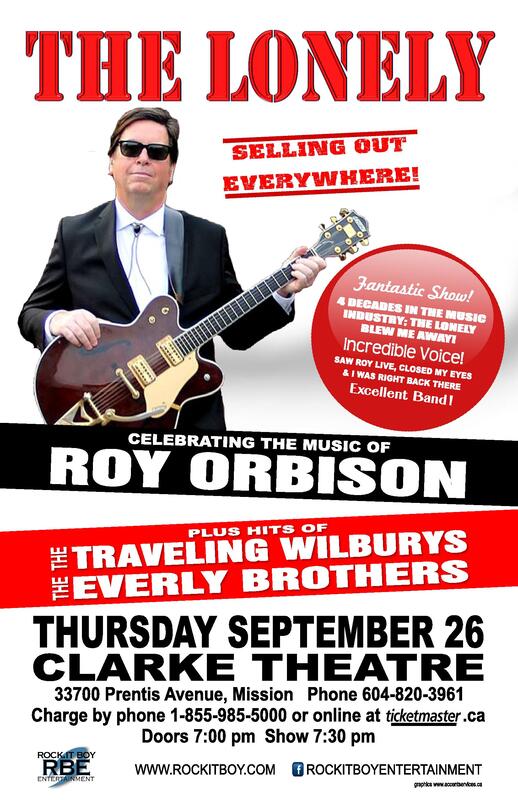 With hits of The Traveling Wilburys and Everly Brothers
Rock.It Boy Entertainment presents THE LONELY - CELEBRATING THE MUSIC OF ROY ORBISON Thursday, September 26 at the Clarke Theatre, 33700 Prentis Avenue, Mission. Tickets are $47.50 (plus Facility Fee & Service Charges) at all Ticketmaster locations. Charge by phone at 1-855-955-5000 or online at www.ticketmaster.ca.
The BIG O was unmistakable with his trademark sunglasses, distinctive, powerful voice, complex compositions and dark emotional ballads. From 1960 to '64 Roy Orbison landed 22 songs on the Billboard Top 40, including "Only The Lonely", "Crying", and "Oh, Pretty Woman". His impassioned voice, bridging the gap between baritone and tenor, coupled with his signature arrangements ensured the charting of the hits "Dream Baby", "Ooby Dooby", "Blue Angel", "Blue Bayou", "You Got It" and "In Dreams". Mike Demers delivers a spot-on performance of Orbison's signature sound.
As a part of THE TRAVELING WILBURYS Orbison brought us "End of the Line", "Handle With Care" and "You're Not Alone Anymore". A prolific writer, Orbison pitched "Claudette" to The Everly Brothers. The track was a co-number one with the Everlys' "All I Have to Do is Dream". Orbison and The Everly Brothers tore the house down on TV's Shindig performing Roy's "What'd I Say".
The Everly Brothers charted 31 singles on the Hot 100, including 12 top 10 hits. Billboard ranked the pair as the No. 66 biggest act in the Hot 100's 55-year history. The Everly Brothers are the chart's third-biggest duo ever and their influence has been incredibly wide-ranging. Because their career predates the Hot 100's launch, some of their best-known hits aren't on the list, including "Bye Bye Love", "Wake Up Little Susie" and "All I Have to Do Is Dream". THE LONELY delivers their single biggest hit "Cathy's Clown" in a stellar performance.
THE LONELY delivers a sensitive and dynamic tribute to the one and only Roy Orbison plus the hits of The Traveling Wilburys and The Everly Brothers. Veteran Mike Demers leads this group of musical journeymen in their mutual and deep appreciation of the timeless music of an era. THE LONELY approaches the music with a humble spirit and sincere desire to recreate the sounds and feel of the original recordings. The band has been selling out shows right from their debut.
"For 4 decades I worked in the music industry. The one constant has been the music of Roy Orbison. When I heard that a Roy Orbison Tribute was coming to town I said, 'Well this I have to see.' THE LONELY blew me away"! exclaims David Chesney, Publisher White Rock Sun, Canada's FIRST Internet Newspaper.
For more about THE LONELY - CELEBRATING THE MUSIC OF ROY ORBISON please visit
www.thelonely.ca
.
---

​Under Paris Skies:

The Music & Story of Edith Piaf


Friday, September 27 @ 7:30PM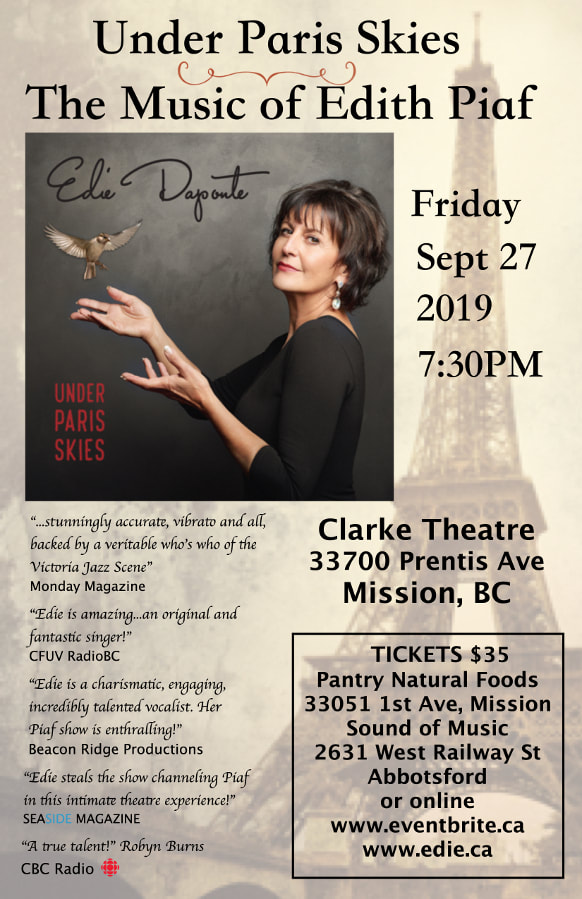 Tickets $35 available at Pantry Natural Foods, 33051 1st Ave, Mission or
at Sound of Music, 2631 West Railway St., Abbotsford or online $34 (+ $3.23 fees) Eventbrite https://www.eventbrite.ca/e/under-paris-skies-music-story-of-edith-piaf-in-mission-tickets-61833313104
Award winning chanteuse Edie Daponte brings Edith Piaf to life for an unforgettable evening of music and entertainment inspired by Paris! Edith Piaf, beloved by millions, gave her last performance at the Paris Olympia in 1963. Her unique voice and passion evoke a time and place for listeners, of Europe before and after the war, and of a life filled with tragedy and endurance. In homage, Edie Daponte channels Piaf with her rich timbre and captivating stage presence. Edie will perform many of Piaf's soulful and emotional numbers and her experienced full live band help create the atmosphere of an intimate Parisian theatre. Non Je Ne Regrette Rien; La Vie En Rose; Sous Le Ciel de Paris; Milord and many more both French and English along with songs that fit alongside Piaf's oeuvre. Joining Edie are long-time collaborator, Joey Smith on bass and Vancouver Island favourites, Karel Roessingh on piano, Aaron Watson on accordion and guitar and Jonathan Eng on percussion. Expect surprise numbers and dramatic costume changes. Come along and feel yourself sink under the spell of the Parisian streets and the sounds they inspire.
www.edie.ca
---
The original EAGLES tribute

HOTEL CALIFORNIA

Saturday, November 16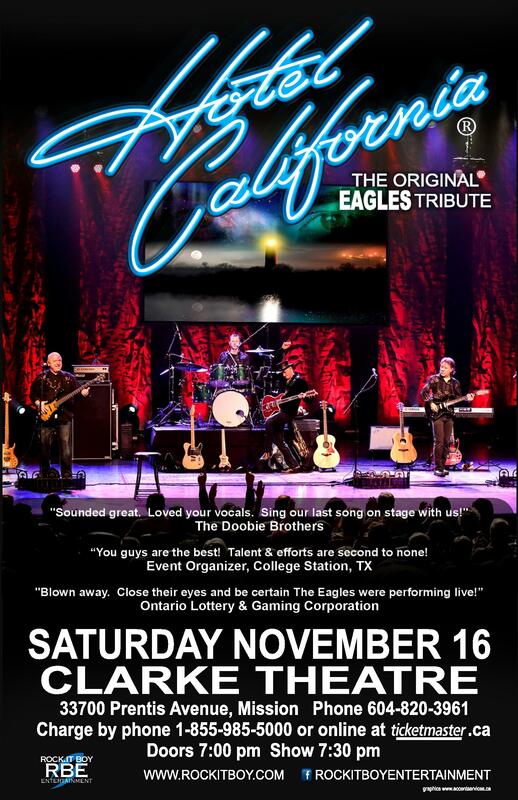 "Sounded great; loved your vocals"! – The Doobie Brothers
Rock.It Boy Entertainment presents HOTEL CALIFORNIA on Saturday, November 16 at the Clarke Theatre, 33700 Prentis Avenue, Mission. Tickets are $42.50 (Plus Facility Fee & Service Charges) available at all Ticketmaster locations. Charge by phone at 1-855-985-5000 or online at www.ticketmaster.ca.

When The Eagles stopped to catch their breath a few decades ago, HOTEL CALIFORNIA began a pioneering journey through their history-making music. From the quintessential Eagles anthem "Hotel California" thru "Take It Easy", "Lyin' Eyes", "Take It to the Limit", "Peaceful Easy Feeling", "One of These Nights", "Dirty Laundry", "Already Gone", "The Long Run", "Life In the Fast Lane" and "Desperado", they have been recreating the legendary sound of The Eagles and thrilling audiences from Japan to Dubai and Toronto to Texas. The band set the bar in 1986, and they've remained the industry leading substitute for The Eagles ever since, sharing bills with some of rock's legends and going places no tribute band has gone before.
What makes HOTEL CALIFORNIA so special? Incredible lead vocal similarity, intensely accurate instrumental work, soaring harmonies, and top flight live performances, for a start. These are the band's hallmarks; the foundation on which their reputation has been built. Their show has evolved into a masterful celebration of The Eagles' music. One of the most game-changing song catalogs in the history of rock n' roll is performed to perfection. If you love The Eagles, then welcome to Hotel California – you've just found the next-best thing.
With a stage show that has evolved into one of the most impressive and popular productions on the North American circuit, HOTEL CALIFORNIA brings their dedication, unique musical gifts, and an obsessive commitment to doing this legendary music true justice. Notice what people are saying about their efforts. "I had the opportunity to see Hotel California for the first time Jan 24, 2011 and I was blown away. One could close their eyes and be certain The Eagles were performing live!" - Kevin Bunting, Associate Manager, Entertainment & Production, Community & Public Relations, Ontario Lottery & Gaming Corporation, Toronto, Canada. "You guys sounded great. Loved your vocals. We'd like to invite you to sing our last song on stage with us - Listen To The Music." - The Doobie Brothers, Blue Ash Sports Centre, Blue Ash, Ohio. "You guys are the best! Talent and efforts are second to none"! - Sheila Walker, Event Organizer, College Station, TX.
For more about HOTEL CALIFORNIA visit:
www.hotelcalifornia.ca
.
---
James & Jamesy (UK) presents

O Christmas Tea: A British Comedy

Saturday, November 23 @ 7:30 pm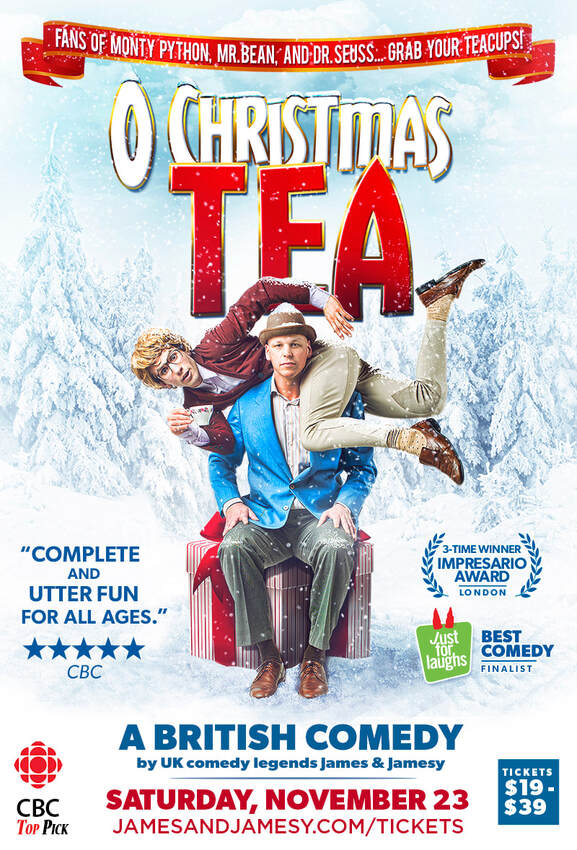 Fans of Monty Python, Mr. Bean, and Dr. Seuss… Grab your teacups!
Off-Broadway Comedians and 3-time IMPRESARIO Award-Winners (London) James & Jamesy present with their outrageously funny and brilliantly inventive Christmas comedy classic
O Christmas Tea
— an astonishing show that delights thousands of hearts every holiday season.
Time:
Doors open at 7:00pm, show at 7:30pm
Cost:
Adults $29-39; Students $19-$29
Tickets:
JamesandJamesy.com/tickets
Show Trailer:
www.youtube.com/watch?v=Hihh2dyNNdo
Website:
JamesandJamesy.com
When catastrophe strikes at James and Jamesy's Christmas tea party, flooding the world with tea, the friends leap into action, finding innovative and hilarious solutions to keep them afloat. Redefining immersive theatre, these masters of physical comedy—with over 20 comedy awards to their name—sweep the audience out to sea in a jolly aquatic escapade brimming with whimsy, action, and ingenuity in a celebration of friendship at Christmas.
"Complete and utter fun… for all ages."
★★★★★ CBC
"Outrageously funny, magnificently written, beautifully choreographed."
★★★★★ London Free Press
"An ode to the idea that anything is possible."
★★★★★ Torontoist
"I cannot think of a show that will leave you more profoundly happy than this."
★★★★★ Stage Door Toronto
Hailed as "a child's imagination on steroids" by London Free Press and "a masterpiece of physical comedy" by Theatre In London, critics rave for the charismatic James & Jamesy. A must-see performance on the international comedy circuit, the unstoppable duo, regarded as "one of the most popular fringe duos ever" (CBC), has been named Best of Fest (Orlando, Toronto, Winnipeg, Ottawa), Most Outstanding Show (London), Best Comedy (Victoria), Patrons' Pick (London), among many other accolades.
---
RENEE JAMES PRODUCTIONS
presents
A PREMIERE NEW MUSICAL PRODUCTION

CHRISTMAS WITH SINATRA - LIVE ON TOUR

STARRING INTERNATIONAL SINGER/ACTOR Dane Warren
AND FEATURING The 19-piece Bruce James Orchestra

Wednesday, December 18, 2019, 8:00 pm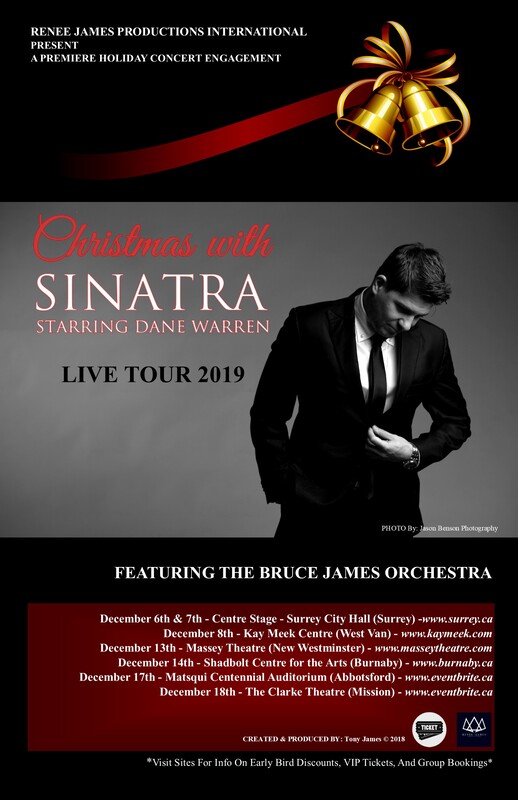 Under the creative direction of UK based Renee James Productions comes an exciting and intimate holiday production - CHRISTMAS WITH SINATRA
TICKETS **ON SALE NOW**GENERAL TICKETS - $13.00 to $38.00 + tax and service fees
GROUPS: Any of the above combinations EXCLUDING VIP tickets. To receive a 10% discount the total tickets must come to a minimum of 10 tickets. Please email the producer directly at eliteproducer10@gmail.com. AVAILABLE IN PERSON: At the Box Office on the Day of Show or on the WEB:
www.eventbrite.ca/e/christmas-with-sinatra-mission-tickets-62527738148
VIP: $48.00 (Only 60 available) - VIP tickets include the following. A) Front row seats (best seats in the house)
B) Invitation to the Private Red Carpet 'Pre-Show' Champagne Reception Hosted by the Producer (VIP's to arrive at 6:45 pm) C) Autograph and Photo Opportunity with the Star D) Autographed Poster E) Complimentary Glass of Champagne F) Opportunity win a Holiday Gift Basket (Value: $150)
Sinatra is a man who truly needs no introduction. From the onset of Sinatra-mania in 1942 to his death in 1998, Sinatra was not only a superstar, but the archetypal jazz singer. Nothing says it's Christmas more than listening to his back catalogue of festive songs, from 'Have Yourself a Merry Little Christmas' to 'The Little Drummer Boy' and everything in between. The producer's welcome guests to join them on a sentimental and nostalgic musical journey this holiday season for an evening of classic Sinatra Christmas hits and storytelling. With elegant stage decor, stunning lighting, and a beautiful venue transformed into a striking holiday theme, CHRISTMAS WITH SINATRA is sure to transport audiences back to the hey day of the Sinatra concert circuit.
CHRISTMAS WITH SINATRA is part of the Award-Nominated "Legends Concert Series" which first premiered in the late 2000's to critical acclaim. The series features music from some the most iconic artists of the 20th century including Ella Fitzgerald, Billie Holiday, Nat King Cole, Sarah Vaughan, Etta James, Louis Armstrong, Bing Crosby, and Rosemary Clooney to name just a few. Since 2008 the series has played to standing ovations and rave reviews in multiple cities.
​For more info on the production and tour dates please visit the official facebook page
www.facebook.com/events/404895690352015/
---